Why MSX Levels and Editor contest?
Ever since the early days of MSX, developers have understood how to increase a game's replay value. Good level design, playability and challenging game play were important factors. Also level editing was one of these elements: let the users expand the gameplay themselves. Even early MSX games like Soukoban and Lode Runner have an editor built in. In Japan - and probably in other countries too - contests were created to promote these games. Examples like Lode Runner, Eggerland, King's Valley II and Mole Mole. Some of these contests even resulted in new releases. And even without a contest, levels for these games got made and shared with friends alike. The MSX Levels and Editor contest (MSX-LE contest from here on) wants to bring back this nice MSX tradition. To promote creating levels for the various games that have editors. And it's also to promote people in the MSX community, that don't have the coding skills to make their own game to get their creativity on. Six categories of games have been selected for the MSX-LE contest:

Game level categories
King's Valley II

Brisk

Daisenryaku/
Great strategy series

Bombaman

Eggerland

"Free for all"


All other game levels than the 5 mentioned games, will participate in the 'Free for all' category. If you want to have some inspiration, look at this page: https://msxtranslations.com/userlevelsarchive.php

Editor category
Aside from these categories, there is a bonus category for new level/ game editors. Editors made or released during the course of this competition. These editors can be in games or separate programs. These entries don't need to be released through this contest, just be released to the MSX community during this competition and submitted. The editor or the game it's in can be free or be sold. And it even can compete in another contest; all can take part. This category is ment to promote level editors or game editors in general.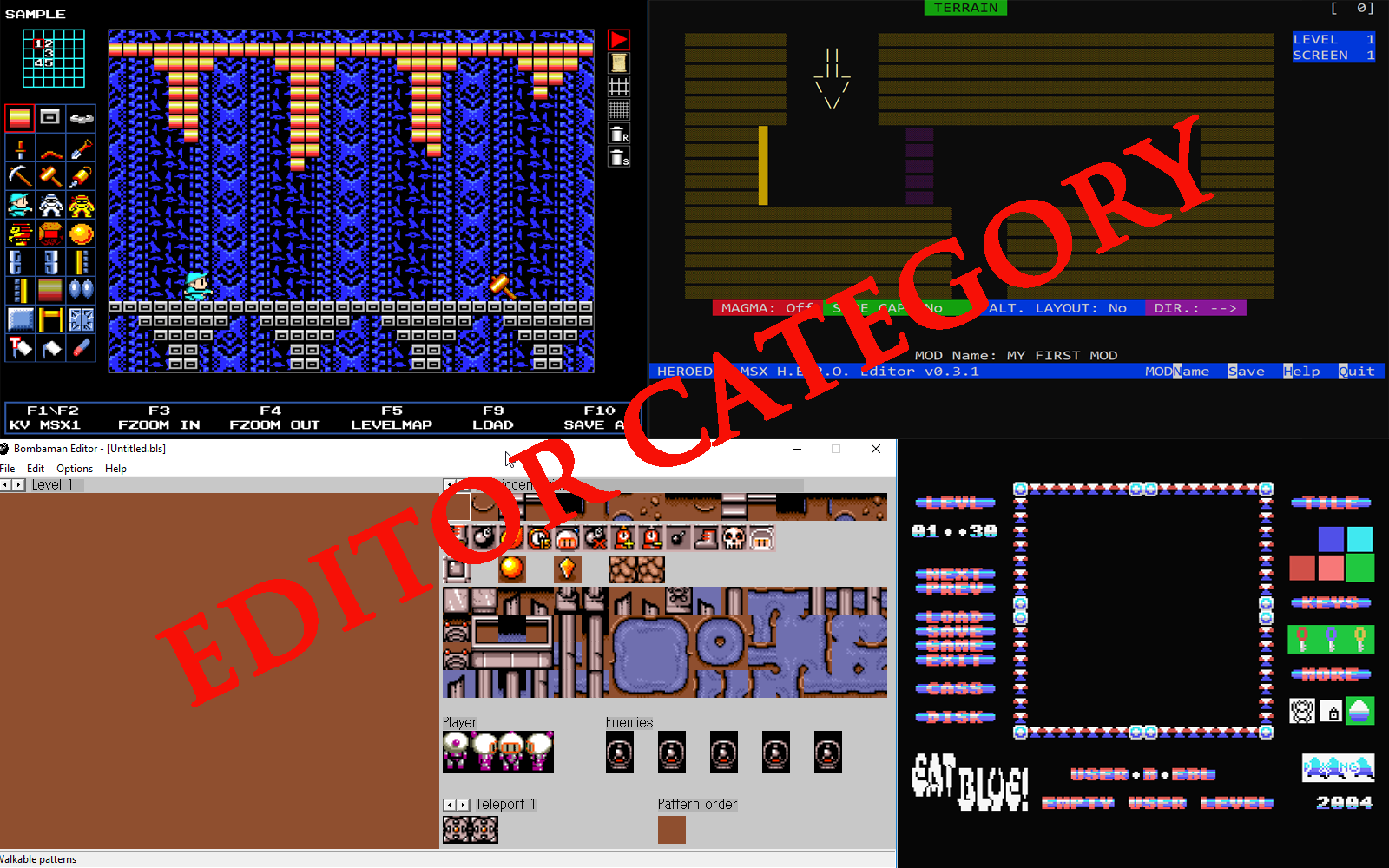 How to enter the contest?


Levels or a level pack: provide them preferably in a format, that is directly usable on an MSX or an emulator. Please also say your name/ nick for the entry and for which game the level(s) are.

Editor let us know the details: Is the editor integrated in a game that is on sale? Just provide some screenshots and a link to where you can buy the game and/or editor. Is the editor or the game it's in is free? Just send a link or send an attachment if it can be hosted on the competition page. Also include a screenshot of the editor, your name/ nick and for which game the editor is.
Start date and end of the contest
Start date: May 6th, 2021
Deadline for entries: November 30th, 2021
Results: (before) December 31st, 2021

Entries so far
Godzilla-kun Tiled editor plugin by MsxKun
Raftoid editor by PlattySoft
King's Valley Plus new editor by FRS
Cat 'n Mouse Puzzle editor by Imanok
Skooter editor Skooted by Arjan
Editor plug in for Tiled to create levels for Yazzie Unlimited by FRS
1 level pack of 13 levels for Lode Runner 2 by KUMO (Free for all category)
1 level pack of 17 levels for Godzilla-kun (Free for all category)
1 level pack of 16 levels for Tako and Ika 3 (Free for all category, non competing)
1 level pack of 25 levels for Perfect Fit (Free for all category)
1 level pack of 20 levels for Super Shanghai Dragon's Eye (non competing)
1 level pack of 5 levels for Eggerland by GuyveR800
1 level for Eggerland by Heer S.M. Zett
2 level packs of 3 and 7 levels respectively for Brisk by Bilderbeek family
1 level pack of 10 levels for Brisk (non competing)
6 King's Valley 2 levels by Lollipop3000
6 King's Valley 2 levels by Artb
6 King's Valley 2 levels by Ewsnatcher
12 King's Valley 2 levels by FRS
16 King's Valley 2 levels by Bilderbeek family
2 King's Valley 2 levels by DTensoMSX
6 King's Valley 2 levels by Plapetit
4 King's Valley 2 levels by Dan
5 King's Valley 2 levels (non competing)
Check and download the MSX-LE entries
Rules
Create a level for an MSX game that can be played on an MSX or in an emulator.
Levels that are created need to be possible to finish (if applicable).
It is allowed to make levels finishable with glitches in the game. If you do, please mention this when submitting the level. This helps with judging the level. If it is noted that a level is unfinishable before the deadline, it will be addressed to the submitter. If a level is unfinishable at the deadline, the entry will get minus points or could be disqualified by the organization.
A level created on a PC editor with features that can't be loaded on an MSX, can't take part. An example is the editor for the remake of King's Valley 2; it allows larger levels than 6 rooms which don't work on an MSX. Such a level can't take part.
Levels for a game can be supplied in any way that it can be loaded in the MSX game, depending on the game.
In case you use an editor that insert levels into the game, note which levels are new. In this case it is preferred if all levels are changed. The editor for blagger or H.E.R.O. are examples of these.
Levels or level packs created for this contest will be treated as freeware.
Anyone can take part. People can take part in multiple categories or with multiple entries in a category if they want.
It's free to take part in the contest.
Only not before released levels can take part.
Original levels will be preferred, but non-original levels are acceptable. An example of this is recreating the Pacman maze in King's Valley II or conversions of levels from other systems. Existing levels that have already been released can't compete.
The jury makes the final call who wins in a particular category. The jury reserves the right to disqualify and/ or penalise an entry if a level is highly derivative or the same as an existing level.
It is allowed to submit level packs, i.e. a group of levels from one submitter. Levels in a level pack will be judged individually.
Level packs are shown separately on the contest webpage.
Judging
Levels will be judged on the following factors:
Playability (fun)
Design
Creativity
Quality
Bonus points can be awarded for:
Complexity of the puzzle (if applicable)
If a level is part of a (well-balanced) level pack
Judges will be announced later. Judges could enter levels in the contest to promote the contest. But these entries are not elligible to win.
Prizes
There is a prize for the winner in each of the categories:

Game categories
King's Valley 2: € 100
Brisk: € 100
Daisenryaku/ Great Strategy series: € 100
Bombaman: € 100
Eggerland: € 100
Free for all (all other games): € 100

Editor category
The winning editor wins: € 200


All entries are valued! Whether it is big or small, simple or complex. That is why the entries for each category will be used to create a competition level pack for that game. This will be freely downloadable on the site. This is in honour of the level contests that were held back in the day. Each category will also have a cash prize for the winner. The organisation will provide the prize for the contest. If there are donations for prizes, these will be added.


If you want to make a donation, you can donate through Paypal with the button below. All contributions will go towards to winners. If you make a donation, tell us whether you want to be anonymous or have a (nick)name listed with it.
That leaves nothing to address but to say:
Let's get creating!