Clash Pennant Race 2 a.k.a. Pennant Race 2
- Gekitotsu pennant race 2 激突ペナントレース2 -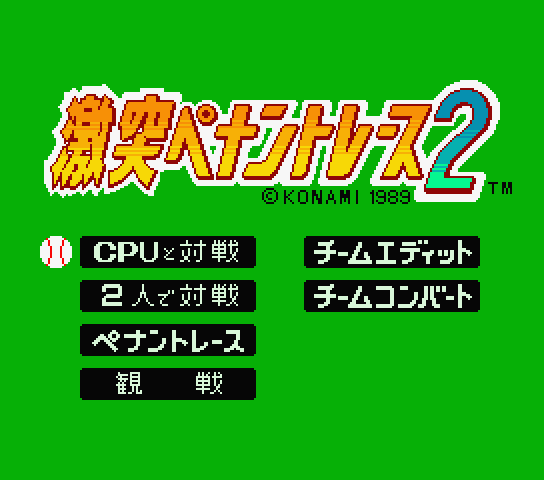 User teams for Clash Pennant Race 2 a.k.a. Pennant Race 2.
Teams from Pennant Race 1 can be converted to Pennant Race 2. Load a Pennant Race 1 team in Pennant Race 2 with the Team Combat option.
It will save itself as a team that can be read by both Pennant Race 1 and 2.
It might be necessary to edit the team afterwards because you have extra players and set the remaining stat points.

Teams can easily be edited in a hex editor. All stats are listed in the 0x range, where the value is 1 higher than its numberical value. So a 4 is 05.

In MSX Fan 90-1 there are 53 teams for Pennant race 2 on page 38. In MSX Fan 89-8 there are teams for Pennant race 2 on page 10. MSX Fan 1991-6 page 94 also has teams. They still need to be saved to disk.

MSX Magazine has teams listed on: 1989-10 page 62, 1989-11 page 62, 1989-12 page 62, 1990-1 page 78, 1990-2 page 64.
---
Also available for these systems:

MSX exclusive


---