Super Great Strategy
- Super Daisenryaku スーパー大戦略 -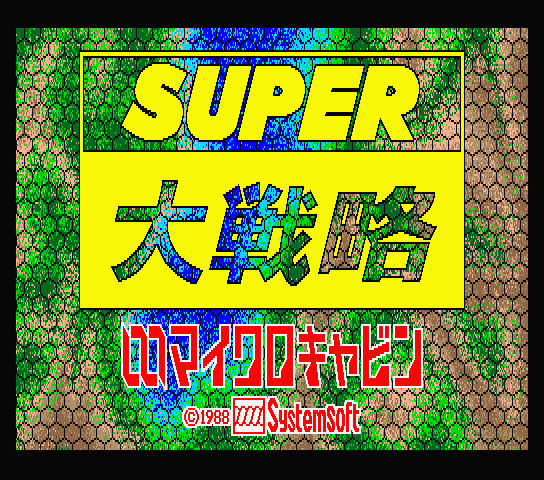 It is possible to convert levels for Master of Monsters to Super Daisenryaku. Levels are called MAPDATXX.DAT. Copy all those files you want to a disk. Then copy MAPNAME.DIR from Super Daisenryaku and IDSECT.COM. The MAPNAME.DIR lets the game know what map files (or save games) are on a disk. IDSECT.COM allows the new disk to be seen as a map disk when you want to play the game. Edit the map names in MAPNAME.DIR with a HEX editor. Odd lines have the level names. On the even lines the first byte lets the game know if it is a map or a save game. Maps have 00 as the first byte on an even row, game saves have 01 as the first byte there. List all the files you want. Then alter the MAPDATXX.DAT files you want to use. Copy all bytes from offset C00 - End of File and then paste it to offset 1000o - End of File (enlarging it to 8192 bytes). Save. It will now be possible to load the map correctly. Only the player data is incorrect now. The easiest way to correct this is to boot the game and start the map editor. Load a map by pressing F1, then press F2 to save the level to the same map name. The map is now fully functional.

Campaign levels can also be converted. Super Daisenryaku has no campaigns but you can create separate levels for it. Campaign levels are called CAMDATXX.DAT and the CAMNAME.DIR is the list of Campaign names. To use them rename them to MAPDATXX.DAT and MAPNAME.DIR on a separate disk and then do all the same steps listed above.

If you also copy DEFPACK.USR from the map disk of Super Daisenryaku to any map disk of Super Daisenryaku and rename it to USRPACK.USR an extra army/ opponent can be selected.
Super Great Strategy ROM editorThere is a map editor for the rom version in MSX Fan 1989-5 on page 28. The Japanese and English version aside from a checksum checker for MSX FAN lists can be downloaded here: Super Great Strategy editor ROM version.dsk

In MSX Fan 1990-5 there is an article showing 8 levels for Super Great Strategy Map Collection 2. It is missing in action. Maybe levels can be made from the pictures. MSX Fan 89-11 on page 121 has some levels that need to be checked with the regular map collection. Extra levels in MSX Fan 1991-01 page 106.

MSX Magazine has extra levels in 1988-11 page 16, 1989-6 page 62, 1989-7 page 55, 1989-11 page 78.
User levels for Super Great Strategy.
---
Also available for these systems:

PC 88 (same levels as on MSX2 for regular game and map collection), PC 98 (same levels as Sharp X68000), Megadrive (original levels), Turbo Grafx (same levels as on MSX2 for regular game and map collection), Sharp X68000 (original levels and original map collection)

Perhaps user levels for these versions can be ported to MSX.
---